It's holiday time and you will be planning a trip. Planning a trip is a very time taking and painful job. You have to get through a lot of websites and forums to choose the best provider and best price, make schedule and many more. Viator solves this problem by providing you the best tours in a city at lowest fares. It have tour packages of almost all countries. You can search for your city or choose from one of the top destinations. Each city has unique package to know more about the city.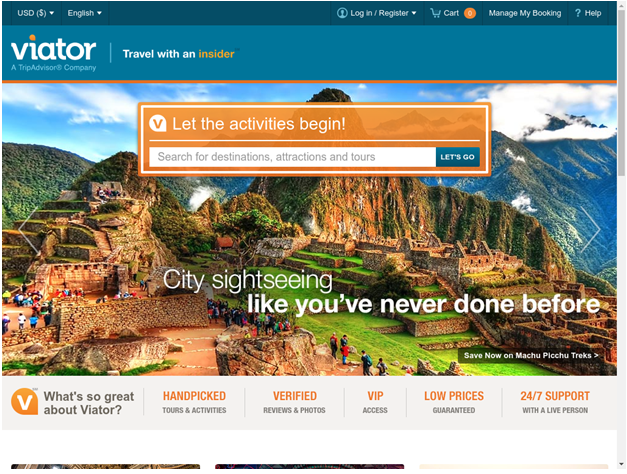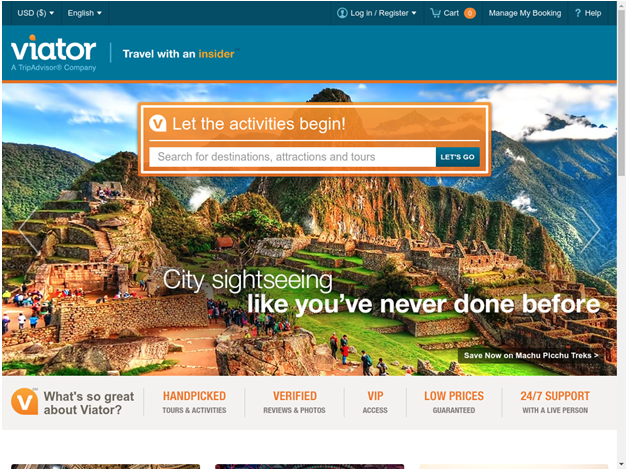 Sign up and Booking
To sign up you need to click on the log in/ Sign up button. You will be taken to a page where you can sign up using email, Facebook and Google. If you choose to use email you will have to provide password and nickname (optional). The dashboard shows your current bookings and offers.
When you land on the website you will be welcomed by a search bar, enter the city to travel or you can browse a list of cities or browse famous places. After selecting a city, you will be presented with a list of tours available in that city with price. You can sort the list by price, duration, most popular and top rated. The bar on right will help to filter your result. You can filter by date of tour, categories, duration, price and special offers.
Select a package you like, input the number of adults and children. Click on check availability, if there are seats you will be directed to review order page where you can check your order and modify if there is a mistake. After that the secure payment gateway will process your payment and your vouchers will be generated that will be used during tour. Currently they accept on Credit Cards.
You can also use their phone booking system where IVR will guide you and hand the call to the support executive to book or modify the existing ticket.
The mobile app is available for Android, iPhone and iPad. The apps let you browse, book and manage your bookings on the go. The e-voucher on the app act as your pass during the tour and keeps you away from the hassle of printing a document in a new city.
More info
The website is provided in 10 different languages and have 7 different currency options. USD, GBP, EUR, AUD, CAD, NZD, SGD and HKD are currencies that they recognize.
The live customer support is very friendly and helpful. You will find Viator.com on all major social sites.
If you plan to cancel your booking, you will get full refund if canceled 7 days or before. The guides are multilingual but sure to check the more info section. There reviews are hundred percent legit and have thousands of reviews on each tour. To sum up, this is the best place to book a tour in the city at lowest price and helpful guides.