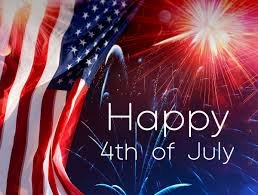 With America's Independence Day approaching, the AAA records that nearly 49 million Americans are planning to travel for the July 4 gate-away. From the travel analysis since 2000, AAA has noted that this number is 2 million more compared to the regular bookings. The overall traveling volume is expected to rise by 4% over the previous year. In addition, 1.9 million people are planning road trips and vacations to mark the day.
"As Independence Day approaches, it's time for the much-loved family road trip and this year will be one for the record books, with more Americans than ever planning vacations," said Mary Maguire, Director of Public and Legislative Affairs at AAA Northeast.
The fourth of July is always marked with a trail of road trips and vacations. Various destinations will be flocked from fourth to seventh with holidaymakers from all over the states. According to AAA, fun-in-the-sun places like Honolulu and Orlando lead the top 10 list of popular destinations for American travelers this independence day.
Orlando
Honolulu
Seattle
Las Vegas
Anaheim, California
New York City
Boston
Maui, Hawaii
Anchorage, Alaska
Chicago.
The biggest number of travelers that is, 41.1 million, will be on the road, 3.96 million will be in the skies, and 3.55 million passengers will be on trains, buses, and cruise ships. This will mean that the transport sector in the United States will be at its peak. The busiest day will be Wednesday, July 3, with everyone in the business of reaching their destinations; it will also be the worst day for drivers on the roads. The destinations listed above will experience the congestion in roads more than any other places.
According to INRIX, a global mobility and analytics company, for the 41.1 million Americans traveling on the road drivers could face delays four times as much as on a typical day.  This means hours of traffic on the roads as both commuters and holiday traveler will be using the same roads. Nevertheless, the other busy day on the roads will probably be on Sunday 7 July.
Last year, the airports were flocked on eighth with everyone on the road back to their daily lives. This year, it will be worse than 3rd especially for the:  there will be the worst congestion ever. The roads will have a mix of all kinds of people: those heading to the airport and others coming from the same place, drivers who stayed in town going about with their weekend activities, holidaymakers coming back home and drivers passing through the city.
It is also expected that the prices of gas will lower from the national average of $2.66 with more than 19 cents less. Consequently, more people will have road trips this summer compared to last year.  Apart from the low gas prices, other factors that are most likely going to make more American travel during the Independence Day are; robust consumer spending, low unemployment, better economic fundamentals remain strong and rising disposable income.
However, on the other hand, transport costs for those who will be using airlines and rental cars will be very high. According to statistics by the AAA, airfares are now 10% more expensive on average compared to the last independence day. Rental care rates are also going to be 5% higher than the previous year: $69 daily. On overage renting the car for the holiday, say from Wednesday to Sunday will be around $250. Meanwhile, accommodations costs are expected to range from $153 for two diamond hotels to $189 for three diamond hotels. Due to the high rate, some airlines use this opportunity to get more customers by offering lower airfares while holiday resorts give cheaper offers: so things might not be that bad.
Independence Day for traveling agencies and gate away hotels is more of a Pay Day. There is an expected increase in the net profit that is going to be made in these two industries: 2 million more people equals more cars to rent, more passengers to pick and more flight to book. If the gas prices remain low for the rest of the summer, it is possible that people will take more than one trip considering that schools will be on summer break. Hotels will have fully occupied rooms for the holiday.
According to the latest news, President Donald Trump will also not miss out in profit making fiesta: his international hotel will also have many guests on Independence Day. This is because he will be giving a speech there. Other tourist attractions outside the US will also benefit from this celebration; some holidaymakers will prefer spending a vacation in other places such as Europe.
In the midst of all the festivities, Motorists are likely to be faced with many problems while on the road. AAA expects to rescue nearly 367,000 travelers on the road on the D-day. They will be dealing with dead batteries, flat tires, and lockouts, among many other cases. If you are to travel on this day, it is therefore recommended that you make sure your car is in the best condition: take it to a reliable repair shop before hitting the road. Having all the tools needed to repair a breakdown is of the essence. It will be safe to carry two spare tires and most importantly, a first aid kit in case of an emergency.
With the big day being a week away, everyone is looking forward to a bigger and better day compared to last year. DC roads covered will be covered in red, blue, and white with many roads being closed. Other significant events that will be happening on the same day are Fourth of July on Barracks Row, The Annual Palisades Parade,The Washington Nationals host the Miami among other events. These events will also lead to closing down many roads. According to the police department of Washington DC, designated no parking zones will be in effect from around 4 am until 11 pm on July 4. Nevertheless, as the fireworks will be lighting up the skies on that evening backed up with taillights for cars stuck on the streets.